Man, this place is dead!
This article is under construction. Things may change as it is being finalized. Please help the Harvey Beaks! Wiki by making high quality edits to this article.
"Chicky" is a toy chicken Harvey played with since he was born. It was first seen in "Icky Chicky".
Appearences
It is a light yellow toy chicken with a purple tie, an orange beak, and an two eyes, which one of them came off, and then eventually both.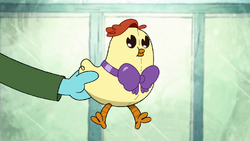 Ad blocker interference detected!
Wikia is a free-to-use site that makes money from advertising. We have a modified experience for viewers using ad blockers

Wikia is not accessible if you've made further modifications. Remove the custom ad blocker rule(s) and the page will load as expected.