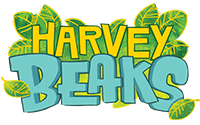 Harvey Beaks
(originally titled 
Bad Seeds
) is an American animated series created by
C.H. Greenblatt
for
Nickelodeon
, produced by Nickelodeon Animation Studios. The series has been picked up for 2 seasons and 52 episodes. It premiered on March 29, 2015. 
Synopsis
Harvey is a sweet and well-meaning bird who makes two new best friends, Fee and Foo, the wildest kids in the forest. Although their friendship seems unlikely, their connection only grows as they push each other out of their comfort zones and into a world of endless adventures.
Characters
Main article: Character Guide
Episodes
Main articles: Episode Guide, Season 1, Season 2
The series has been picked up for 26 episodes to air on March 29, 2015.
Gallery
Intro
Season 2 version
Videos
Ad blocker interference detected!
Wikia is a free-to-use site that makes money from advertising. We have a modified experience for viewers using ad blockers

Wikia is not accessible if you've made further modifications. Remove the custom ad blocker rule(s) and the page will load as expected.