Ira Fingerman
Info
Full Name
Ira Fingerman
Species
Rock
Debut
The Finger
"Ira Fingerman" is a sentient rock shaped like a finger located in Bigbark Woods. Its first appearance is in the episode "The Finger". 
Appearances
Bio
Mistaken as a "secret girlfriend" of Foo by Fee, Ira is a sentient finger-shaped rock discovered by Foo. It understands English, and was given the name "Ira Fingerman" by Harvey. The finger saves Harvey and friends in a major rainstorm as they tried to discover what was underneath it.
Trivia
Gallery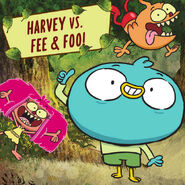 Click here to view the gallery.