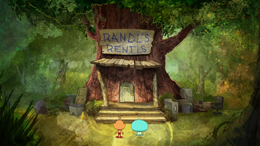 Randl's Rentls is a store owned by Randl and his mother. Like the proprietor himself, the store is misspelled (it would be technically spelled Randal's Rentals).
It first appeared in "The Rentl Bike", where Harvey and Foo wanted to rent a bike from Randl. After he scams them by renting them a bike with no bolts, causing it to immediately fall apart, Fee insists that Harvey and Foo steal a bike stating that since they paid legally, Randl owes them. They end up stealing one and try to flee from Randl, until Foo learns what riding a bike is like and then allows the bike to be taken back, along with Harvey's. In "The Rebel", Harvey tries to vandalize the store's sign by correctly spelling it, leading to a cycle of confusion which Randl finds as funny, sad and ultimately annoying.
Episode Appearances
Ad blocker interference detected!
Wikia is a free-to-use site that makes money from advertising. We have a modified experience for viewers using ad blockers

Wikia is not accessible if you've made further modifications. Remove the custom ad blocker rule(s) and the page will load as expected.