Steamgate
◄ Season 1, Episode 39 ►
Transcript
Production Info
Production Code
119A
Written by
Shane Houghton
Aaron Austin
Hannah Ayoubi
Directed by
Derek Evanick
Diana Lafyatis
Storyboarded by
Aaron Austin
Hannah Ayoubi
Broadcast Info
Airdate
January 29, 2016 (USA)
December 17, 2015 (France)
Ratings
0.89 million
"Steamgate" is the thirty-ninth episode of Season 1 of Harvey Beaks.
Synopsis
Moff feels like no one in town shares his interests, so he builds a portal to another dimension.
Plot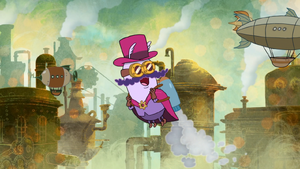 TBA
Characters
Major Characters
Minor Characters
Music
Gallery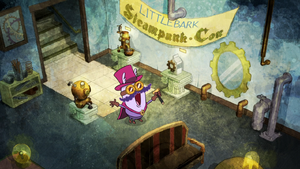 Trivia
This episode aired in France on December 17, 2015.
Moff's eyes are revealed for the first time.
It is revealed that the accordion is Moff's favorite steam-powered instrument (even though it's technically air-powered).
Jeff Bennett takes over as the new voice of Doctor Roberts.
This is the fourth time the episode's title is written in black, and the third time the title card is written in black with the white splotch.
Cultural References