Yeti Ready
◄ Season 1, Episode 40 ►
Transcript
Production Info
Production Code
119B
Written by
Amalia Levari
Colin Heck
Chris Pianka
Directed by
Derek Evanick
Diana Lafyatis
Storyboarded by
Colin Heck
Chris Pianka
Broadcast Info
Airdate
February 5, 2016 (USA)
December 17, 2015 (France)
Ratings
1.04 million
"Yeti Ready" is the fortieth episode of Season 1 of Harvey Beaks.
Synopsis
Irving goes to Rooter's survivalist family for help when he becomes afraid that he can not protect his family from an imaginary yeti.
Plot
TBA
Characters
Major Characters
Supporting Characters
Minor Characters
Gallery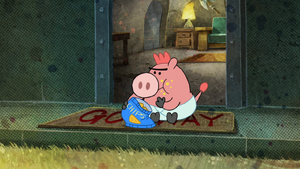 Trivia
This episode aired in France on December 17, 2015.
It is revealed that Rooter and his family live in a bunker.
Rooter's last name is revealed to be "Wellington".
Irving mentioned about how he remembered when Harvey hatched prior to "Icky Chicky".
Ad blocker interference detected!
Wikia is a free-to-use site that makes money from advertising. We have a modified experience for viewers using ad blockers

Wikia is not accessible if you've made further modifications. Remove the custom ad blocker rule(s) and the page will load as expected.